Invisalign® & Video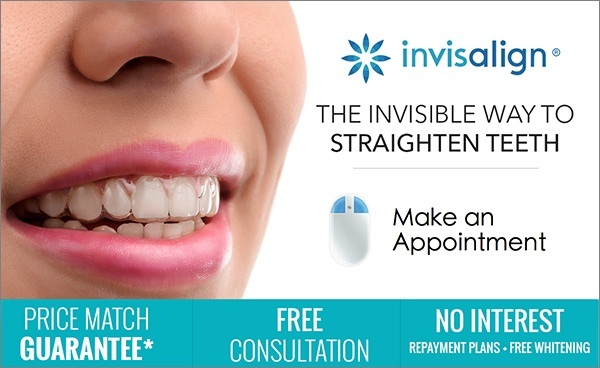 At Gentle Dentistry in Adelaide we want you to be confident in your smile. Our dentists can work to realign your teeth using Invisalign, a series of nearly invisible, clear aligners.
Free Consultation
We will assess your teeth and find the most suitable treatment plan if appropriate. Absolutely free.
Price Match Guarantee*
We'll match any quote for the same Invisalign treatment from any South Australian Dental provider.
No Interest Repayment Plans
Our payment plans allow you to break up the cost in to weekly, fortnightly or monthly payments, with 0% interest.

What is Invisalign treatment?
An Invisalign treatment is a new technology that helps straighten your teeth with a series of nearly invisible, removable aligners.
Procedure of Invisalign treatment
To get started, your doctor will take x-rays, photographs and impressions of your teeth. Next, a digital 3-D image is created. A precise treatment plan is established. Using this technology, your doctor will even be able to show you the series of movements your teeth will go through with each stage of treatment. A series of custom-made, clear aligners is then made specifically for you.
Invisalign aligners are worn for about two weeks and then replaced with a new set. The aligners are manufactured on an individual basis to fit your teeth. As you wear each set of aligners, your teeth gradually begin to move until they have straightened into final position.
Benefits of Invisalign treatment
Invisalign is the most comfortable way to change your smile. The benefits of Invisalign over traditional metal braces include:
Clear: The Invisalign aligners are nearly invisible so hardly anyone will notice that you are having treatment.
Comfortable: The Invisalign aligners are comfortable to wear. There are no metal brackets or wires to cause mouth irritation.
Removable: The Invisalign aligners are removable before eating, brushing, and flossing.
Effective: Invisalign aligners can straighten the teeth and correct the bite thereby improving your smile.
Customized: Invisalign aligners are custom-made to fit your teeth.
Fewer doctor visits required
More than just straightening your teeth, it works to correct more serious issues associated with the teeth or jaw. Properly aligned teeth can alleviate the issues such as improper cleaning of teeth, tooth decay and gum disease that can be caused by crooked teeth or jaw problems. If left untreated, many orthodontic problems such as crooked or protruding teeth can cause speech or chewing difficulties, jaw problems, and abnormal wear of tooth surfaces.
Invisalign technology can give you straighter teeth and restore the natural functionality and beauty of your teeth.